Causey Middle School Library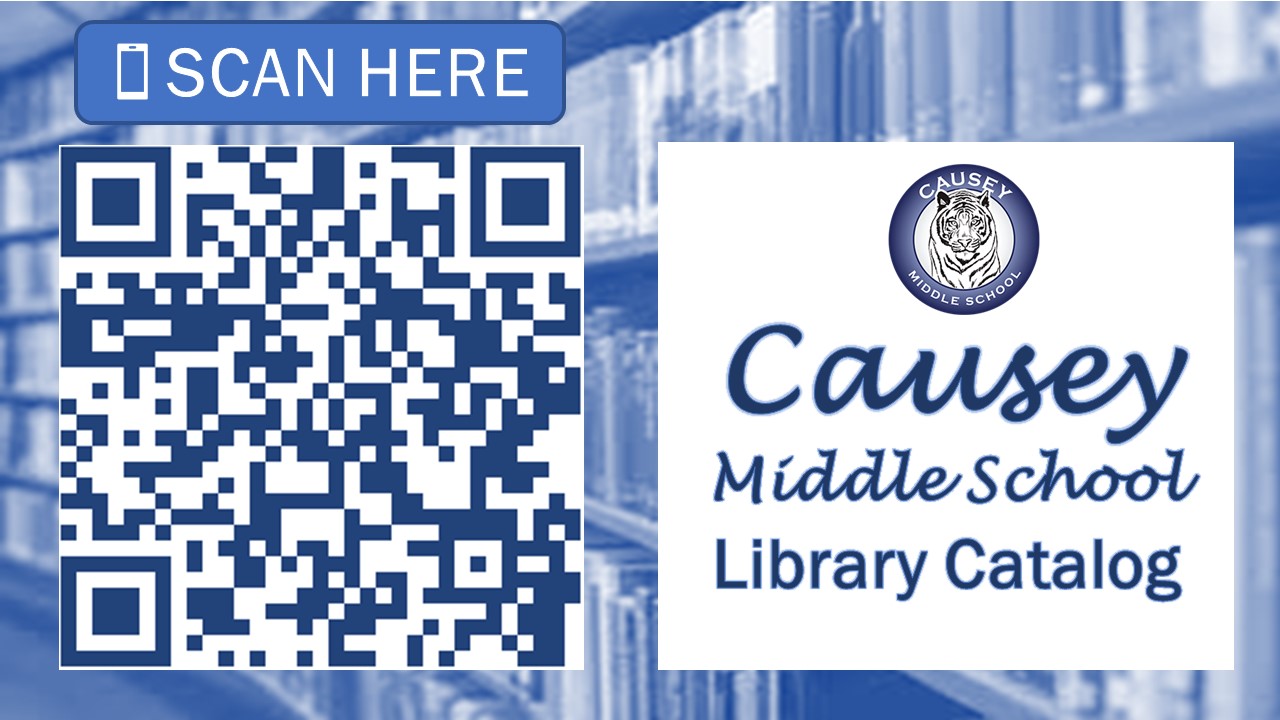 Using the Library - Updates Regarding Our New Library System Coming Soon!
Welcome to the Causey Middle School Library!!
Library Media Specialists Ms. Streety and Ms. Brooks are happy you visited our page today!
Causey Middle School Library Procedures
Our library media center operates on a flexible schedule. Students may come to the library to check out books during their language arts classes with a pass. Students MUST have their ID badges to check in to the library and check out books. Students may still place books on hold, and we will deliver books to their homerooms.
Genres: We are one of the largest libraries in the county, and we were one of the first libraries in the county to move to this modern format. The fiction section of the library is set up like a bookstore and divided into different genre sections. We believe this will help increase circulation and help students find books that fit their interests. We all know that the only way to become a better reader is to read, and it is our hope that by providing students easy access to books that pique their interests, we can build better readers. Every book has been color coded identifying the genre, marked in the library catalog with that corresponding genre, and then moved into its genre section. We encourage you to have genre conversations in your classes. The genre labels on the books do not have to be permanent, if a student feels strongly and would like to contest our genre choice for the book, we welcome those conversations. We just want them reading!
eBook resources are always available and we encourage you to use them. Links to instructions and a video tutorial for accessing eBooks are posted above.
Abdo Digital
username: causey
password: tigers
EPIC Ebooks
Go to
www.getepic.com - Available from 7 AM - 4 PM
Enter class code
Select Guest
Quiz Hub
Interactive educational quizzes for k-12.
http://www.quizhub.com
Cool Math
Fun math and puzzle games.
http://coolmath.com

Book Club Sites

Book Spot
Reading lists, textbook sites, authors, publishers and much more.
http://www.bookspot.com
Articles, stories, poetry, videos, and much more written and created by teens.
http://www.teenink.com
Rubrics
This is a free site to help teachers create rubrics for their lessons.
http://rubistar.4teachers.org/index.php
Teach.nology!
Printable worksheets, lesson plans, rubrics, webquests, games and puzzles.
http://www.teach-nology.com
Web Page Evaluation Form
Use this form to evaluate your websites.
http://school.discoveryeducation.com/schrockguide/evalhigh.html
https://mcpss.discoveryeducation.com
Abdo Digital
username: causey
password: tigers
To login:
For Students:
Username: (email/computer username without @stu.mcpss.com")
Password: Uppercase First initial, lowercase last initial, date of birth (2-digit month, 2-digit day, 4-digit year)
Group Username: mcpss
EPIC Ebooks
Go to
www.getepic.com - Available from 7 AM - 4 PM
Enter class code
Select Guest