Causey Middle School Library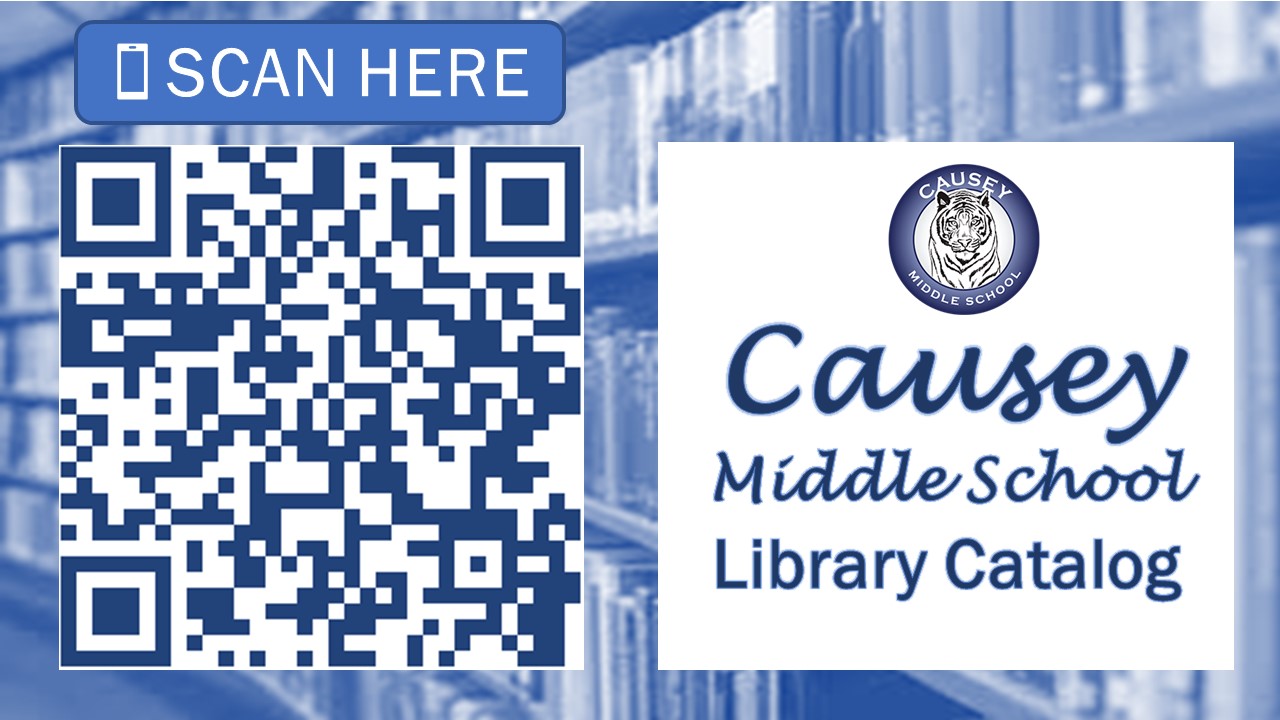 Welcome to the Causey Middle School Library!!
Library Media Specialists Ms. Streety and Ms. Brooks are happy you visited our page today!
Causey Middle School Library Procedures
As of now, classes are not allowed to visit the library, but please see the directions above showing you how to access Destiny to place books on hold. Your librarians will then pull the books and bring them to you during homeroom.
MCPSS guidelines all returned books must sit out in the library unstacked for 7 days before they can be checked out to another student. Therefore, some books will be unavailable for a week even after you request the book. MCPSS guidelines also state that students should not share library books.
6th Grade Homerooms book delivery & pick-up TUESDAY

7th Grade Homerooms book delivery & pick-up WEDNESDAY
8th Grade Homerooms book delivery & pick-up THURSDAY
eBook resources are always available and we encourage you to use them. Look to the right for more information about accessing eBooks.
Abdo Digital
username: causey
password: tigers
To login:
For Students:
Username: (email/computer username without @stu.mcpss.com")
Password: Uppercase First initial, lowercase last initial, date of birth (2-digit month, 2-digit day, 4-digit year)
Group Username: mcpss
EPIC Ebooks
Go to
www.getepic.com - Available from 7 AM - 4 PM
Enter class code
Select Guest
Quiz Hub
Interactive educational quizzes for k-12.
http://www.quizhub.com
Cool Math
Fun math and puzzle games.
http://coolmath.com

Book Club Sites

Articles, stories, poetry, videos, and much more written and created by teens.
http://www.teenink.com
Rubrics
This is a free site to help teachers create rubrics for their lessons.
http://rubistar.4teachers.org/index.php
Teach.nology!
Printable worksheets, lesson plans, rubrics, webquests, games and puzzles.
http://www.teach-nology.com
Web Page Evaluation Form
Use this form to evaluate your websites.
http://school.discoveryeducation.com/schrockguide/evalhigh.html
https://mcpss.discoveryeducation.com
Abdo Digital
username: causey
password: tigers
To login:
For Students:
Username: (email/computer username without @stu.mcpss.com")
Password: Uppercase First initial, lowercase last initial, date of birth (2-digit month, 2-digit day, 4-digit year)
Group Username: mcpss
EPIC Ebooks
Go to
www.getepic.com - Available from 7 AM - 4 PM
Enter class code
Select Guest